The rough draft of Louisiana's SCORP is presently under review by the advisory committee - comprised of planners and parks & recreation professionals. You'll see from the position of the hiker in the above image where we are in the overall process which began in October of 2019. Like you, our team is taking our governor's warnings about social distancing seriously and most of us are working from our homes or from largely vacant offices. We are continuing our efforts to complete this project on schedule and to minimize impacts from the world-wide pandemic.
Spatial Data Collection
As public servants, parks & recreation professionals have been extremely busy during the early weeks of this virus spread as decisions to temporarily close or restrict access to public facilities, suspend organized recreation activities, and modify after-school programs has made large demands on people's time. We completely understand. The SCORP team is continuing to collect spatial data about municipal and parish park and recreation facilities across the state. We are working patiently with staff to identify and obtain the required data in an efficient manner. This information will be consolidated into a state-wide map of recreational resources accessible through your web browser.
Draft SCORP Contents
While this initial rough draft of the 2020 SCORP is not ready for distribution, we will share the outline from its table of contents. This should help you to understand the scope and purpose of the study, which is critical for identifying outdoor recreation needs across the state and thereby inform administrators where funds should be targeted to address those needs.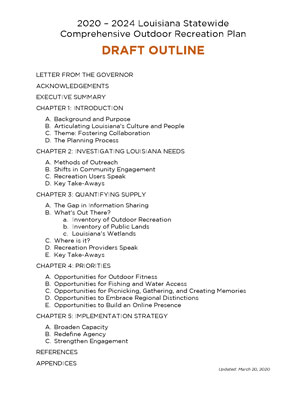 ---
Description of Contents
Following the front matter including a letter from our governor, acknowledgements and an executive summary, the five main chapters of the SCORP are Entitled:
I. Introduction
The purpose and background of the SCORP will be defined, the planning process described, and Louisiana's culture and people characterized.
II. Investigating Louisiana's Needs
Outreach methods including mailings, phone calls, online surveys and social media were utilized to contact Louisiana recreation users and facility providers.
III. Quantifying Supply
This chapter seeks to update the inventory of spatial data collected in previous editions of the SCORP. Themes are parks and outdoor recreation facilities, public lands, and Louisiana's wetlands. Jurisdictions are local, state and federal; plus private providers as available.
IV. Priorities
Setting outdoor recreation priorities is the gist of the SCORP's purpose. By comparing the needs and desires of the populace with the availability of sites and facilities, gaps in desired outdoor recreation amenities are likely to be identified and then prioritized.
V. Implementation Strategy
Building upon the priority list the recreation planners will craft a strategy for acquiring as necessary and then implementing needed outdoor recreation facilities.
---
Click for a printer-friendly version of this draft outline.