Wednesday, April 22nd marks the second new moon since the beginning of spring. This is significant to amateur astronomers as the nights flanking a new moon offer the darkest skies - which makes observing everything other than the moon - planets, star clusters, nebulae, etc. - that much better.
What Might I See?
Presently in the southern US most of the planets are visible in the morning, meaning you'll have to be an early riser to check them out in the eastern sky before sunrise. During the week of April 13, 2020 your reward will be a conjunction - a grouping or lineup - of Mars, Saturn, Jupiter and the crescent moon. Only Venus is visible in the evening sky before bedtime, but it is so bright in the western sky you'll surely notice it before sunset is complete. Other goodies are visible after darkness sets in including star clusters, galaxies, nebula and stars themselves. Many online resources are helpful for learning about and locating these celestial bodies. A short list is presented below. Some of these tools are location dependent, so you will need to let the website detect your location.
But Really, What Can I See?
Well, this is sort of a loaded question because so many factors affect it. Generally, where you are, what surrounds your observing site, the weather, and the equipment you're using to stargaze have profound impacts. Unless you're observing the moon or a bright planet, nighttime light pollution is perhaps the biggest adversary. Rural sites - preferably open fields - away from cities and town are desirable. This is where public parks, public lands and forests can be so beneficial. Most are located away from city lights and many offer clearings or parking lots which - if you're lucky - are relatively free from night-time lighting. Beaches or high ground in marshes can be quite good observation sites. If you can discern the band of the Milky Way across the sky from your location during a moonless night you know you're doing pretty good. The Bortle scale is a measure of light pollution and the DarkSiteFinder.com site offers a fun way to explore online and learn of light pollution in your vicinity or search for potential observation sites with darker skies.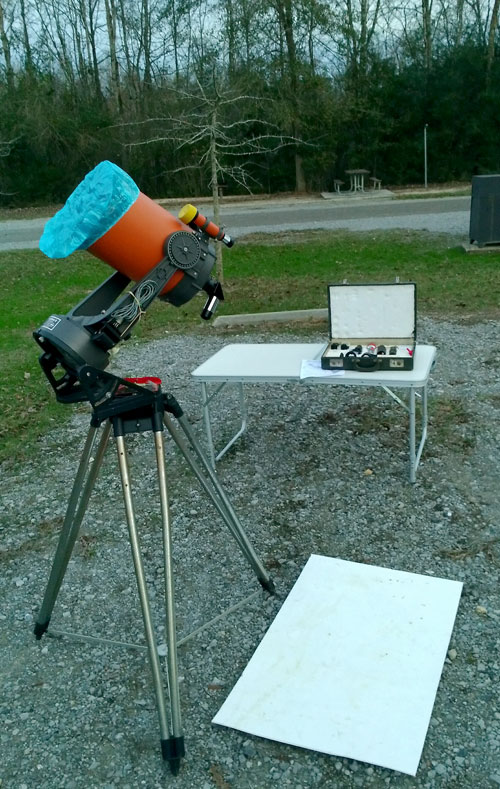 Surroundings such as tall trees or buildings limit your window of view to the night sky so finding open and dark areas is best. Visual targets to the north or south are especially vulnerable to these obstructions since, due to earth's rotation, they do not climb high into the sky. The same is true of targets to the west which disappear early in the evenings, or eastern targets visible only near daybreak.
You might assume that a telescope is necessary, but binoculars are very functional too. Being comfortable while using them is important. Bring along a sturdy reclining chair, a mat to lie on or even a bean-bag. This allows you to relax your body and be still while you scan the night sky for interesting subjects. Extra clothes and blankets are also smart accessories to bring to keep you comfortable as temperatures drop. Insect repellant is sometimes lifesaving especially shortly after dusk, and monitoring the weather forecast is necessary to ensure clouds won't obscure your stargazing adventure. ClearDarkSky.com offers a neat weather forecast web widget which graphically depicts clear or cloudy skies at specific locations in 48 hour increments. You can also see a map view of observatory sites, judge the impact of light pollution at each and click to see sky conditions.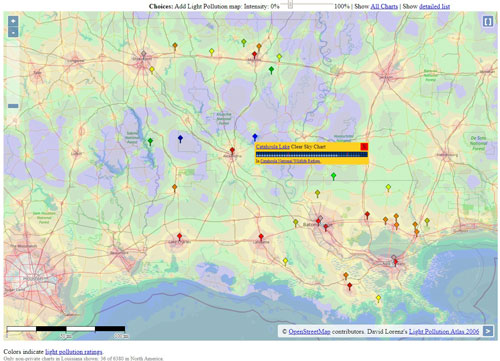 Stargazing is Social
Sure, die-hard amateur astronomers spend many nights alone with their telescopes and cameras and other gear, but they'd agree that stargazing is more fun with friends or family. It is even better when you're out with someone more knowledgeable than yourself so you can learn and benefit from their expertise. The author is aware of three active astronomy clubs in Louisiana: one serves the New Orleans metro, another in the Capital region and linked to LSU with an observatory at BREC's Highland Road Park, and the third in northwest Louisiana with an observatory well south of Shreveport off Hwy. 1. Clubs are a terrific resource for knowledge, organized events and locations, and eventually friendships.
Learn from a Club
Attend a Star Gaze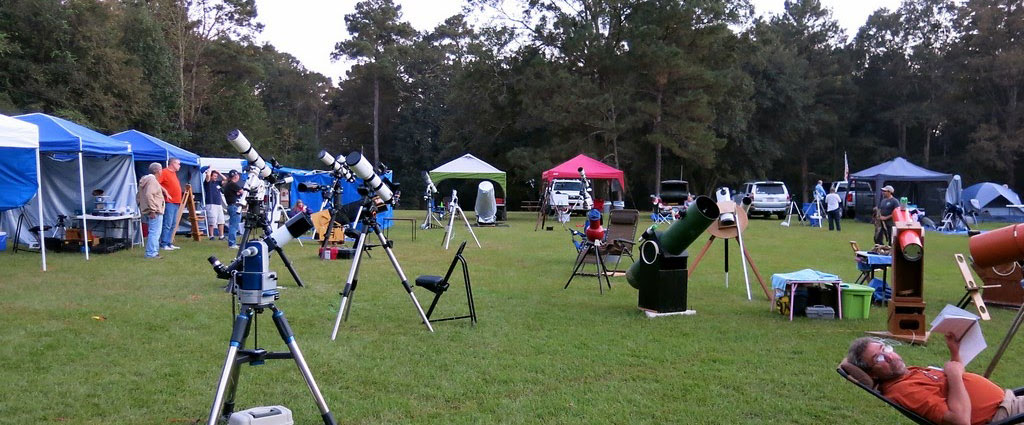 An over-arching event is the Deep South Stargaze which organizes twice-annual stargazing events in rural "dark sky" locations. The Spring Scrimmage occurs during a new moon usually during April, while the autumn Star Gaze occurs in late October. These are regional events, drawing participants from not only across Louisiana but from adjacent states as well. These outdoor events are of course weather dependent, with humidity and clouds being prime culprits. With so few dark sky sites available to so many urban enthusiasts, these events nevertheless draw a diverse and dedicated group.