Walking is good for you!
For most of us walking is an enjoyable form of exercise that is easy to fit into our schedule. Whether accompanied by your walking buddy, your furry friend, or going solo, walking offers both exercise and mental relaxation. Across our state efforts are underway to improve existing and create new walking trails and hiking paths. In February of this year the Louisiana Recreational Trails Program Plan was released by the University of New Orleans Transportation Institute. The study, sponsored by the Federal Highway Administration and administered by the Louisiana Office of State Parks, guides funding allocation for trail improvements.
Learn about the program at the Louisiana State Parks website.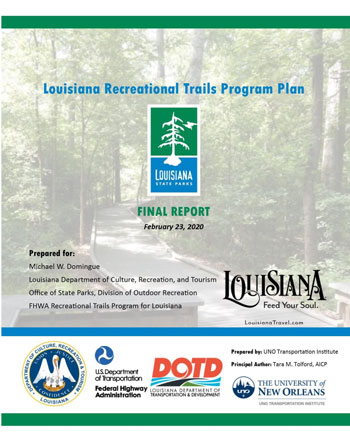 LRTP Plan

Health Benefits
A 2018 scientific report to the U.S. Department of Health and Human Services provides ample documentation of health benefits obtained through regular exercise. The Louisiana Department of Health (LDH) has developed a 5-year health improvement plan entitled "Creating a Blueprint For Our Future" which both quantifies the problems of obesity and diabetes (at least partially due to sedentary lifestyles) and it also provides recommendations for promoting healthy lifestyles.
Did you know that the number of obese adults in Louisiana could fill the Superdome more than 15 times? Or, how about the fact that it would take nearly 4 Tiger Stadiums to hold all Louisiana adults suffering from diabetes? For most of us, adding walking to our day is easier than saying "no" to delicious Louisiana food. So for a start, let's explore some locations and information resources to help us get outside and start walking. Play Outdoors LA!
Walking Paths
If you're just getting started or time is a constraint then walking around your neighborhood or down your rural route is an immediate option. Analysis has shown that most of us live within five miles of a park of public space with a walking track or trail. These may provide more pleasing views of green-space and insulating distance from traffic which would enhance the experience. After all, walking is good for both body and mind.
Hiking Trails
If you have time for a longer excursion you should know that Louisiana has an abundance of hiking trails, with lengths and locations suited to most everyone. Some community parks offer longer walking tracks, trails along bayous or wetlands, or pathways through woodlots. More adventuresome walkers, hikers and nature lovers will enjoy a change of scenery. Springtime in Louisiana is an ideal time to go and investigate one or more of these hiking trails:
The Kisatchie National Forest offers…
Chicot State Park offers…
Jean Lafitte National Park offers…
North Toledo Bend State Park offers…
These are just a few. Trails exist in every state park. Many more trails are maintained in our state and the following resources can help you find one near you, or near an attraction you'd like to visit.
AllTrails website is nation-wide and includes trail routes from GPS data. It has more entries and photos from each site. The website distinguishes between "curated content" trails and user contributed "community content" which are individual tracks recorded by hikers using the app on their phone or GPS unit.
Louisiana Hikes Website is a personal site by a hiking enthusiast featuring a point-based Google map of preferred hiking trails. This website nicely categorizes trails by length as short, medium and long.
There are organizations such as the Louisiana Hiking Club which meet regularly and organize hikes across the state. Check out their calendar. There are also hiking groups on social media including Facebook and Google Groups.
Avid Louisiana hiker Janina "Nina" Baxley authored the book 50 Hikes in Louisiana for those who prefer a hard copy resource. Check your local library or bookstore for availability.